We'll obviously answer that question as we work through this LeoVegas cricket review but firstly, let's consider what makes a great sportsbook. We all have slightly different needs as sportsbook customers, but there are some key elements that unite us all.
Firstly, we should demand choice, and when we refer specifically to cricket, we're talking about a good range of markets from result betting to a set of props. The choice is great, but it means nothing if the bookmaker can't back it up with value. That value element comes from competitive odds in the regular markets, and it helps if we can add in some offers and promotions along the way.
LeoVegas
LeoVegas
Rating
Markets

1

In-play

1

Graphics

1
Why choose this bookie?
Wide selection of matches
Competitive set of odds
Good list of deposit options
18+; T&C's apply; Click "Try it now" for details
We Recommend You These Operators
| Bookmaker | Bonus | Rating | Accessible | Play |
| --- | --- | --- | --- | --- |
| 22bet | 100% up to ₹10,000 | | PC, Tablet, Phone | Read Review |
| 1xBet | 100% up to ₹10,000 | | PC, Tablet, Phone | Read Review |
*T&C's apply to all of the offers!
The operator should also be trustworthy, and they must be fully licensed and regulated. Finally, some important back up can be provided through excellent customer service and a range of banking options.
Now that we know what we should be looking for, let's see how LeoVegas India shape up.
LeoVegas Cricket Betting
This is the first key element that we mentioned in the previous section. A good choice of markets is essential if we are to have a positive relationship with our sportsbook and for us to put them at the top of our cricket betting list.
The news from LeoVegas is good: When you log on to the site, you will find that it defaults to the live markets so remember to click on the bar marked 'forthcoming' and find cricket from the A to Z list. The first point to note is that there is a wide selection of matches right from the top internationals all the way down to some minor games from across the world. LeoVegas India do not list the number of markets available which is a little inconvenient, so we had to count them ourselves.
We can report that there should be up to 100 picks for the big international T20 games. Yes, there may well be more from other sportsbooks, but this is a very comprehensive list which focuses more on player and match props. Of course, the match result betting is there, but this is a good place to play if you like markets such as most 6s, most 4s and highest run scorer. You may not see the type of stats betting that you'll find elsewhere and LeoVegas may not include options for total runs in each over.
Overall, for an extensive selection of matches and a wide set of player props within each one, this LeoVegas cricket review has made some excellent findings.
Are Those Markets Matched with Competitive Odds?
Those markets need back up from a competitive set of odds for all available options, and this is the next point for our LeoVegas cricket review to assess. You may find the company listed on some of the more obscure odds comparison sites but rather than look for that kind of portal, it's much easier to do the research yourself.
Pick a couple of match result options from the many games that are coming up and quickly take a look at one or two more sportsbooks. You should find, as we did, that LeoVegas India compare very well and that they are often in front with the best possible odds.
We carried on this exercise and found that LeoVegas were also very strong when we considered the prop bets. It's the only way to really make sure that you're getting value for money and happily, our results were very positive indeed.
LeoVegas Registration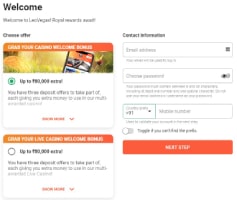 Nobody wants a slow and complicated sign-up process – least of all the bookmakers – so we should hope to see a swift and streamlined procedure. Unlike some other sportsbooks, LeoVegas India have two registration buttons at the top of their homepage so you really can't miss out.
Click on either of those icons and in the first instance, you just need to type in an email address and a password. Confirm those, and then you merely fill in the rest of your personal information before setting your account preferences.
We were not asked to verify our details at this stage, so that was essentially everything. It's a very quick process, and you can expect to have a confirmed account in less than five minutes. That's great news, and it's another winning section in our LeoVegas cricket review, but before we can use the new account, we need to cover our opening bets.
What Banking Options Are Available?
There is a good list of deposit options, and you can use most of them to make withdrawals too. It's all about flexibility at LeoVegas India, and while we have seen bigger lists of providers in other places, there should be enough here for any customer to get on board.
Many of us like to fund with traditional methods and, as you would expect, you can carry out your LeoVegas deposit via a bank transfer, or there is the possibility of using any of the main Visa and Mastercard brands.
That's a basic requirement, but account holders will want to see some e-wallets added in. LeoVegas doesn't disappoint, and it includes the main providers – Skrill and NETELLER plus ecoPayz, AstroPay and MuchBetter.
The minimum amount for both deposits and a LeoVegas withdrawal is 1,000 INR. You can expect any deposits to land in your account right away while withdrawals may take up to 48 hours depending on which method you use. As we said, it's a flexible approach to funding with a good choice of options and the process is very easy to use too.
LeoVegas Bonus Offers
Remember we said that the value from strong, everyday odds can be supplemented by some useful offers and promotions. It really helps when a sportsbook throws in some extra deals because it makes us feel wanted and, if we use those offers correctly, they can boost our winning bets.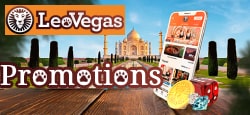 Remember that offers and promotions can change at any time, but you can usually expect to find three deals for existing customers and the majority of these can be used in the cricket markets. LeoVegas will typically publish an accumulator profit boost where winning multiple bets can be enhanced by as much as 65%.
A free bet club is also listed as a loyalty programme while LeoVegas India will also tend to add in price boosts and weekly competitions.
This was always going to be an important part of our LeoVegas cricket review, and happily, they haven't let us down. There are regular promotions here that can add real value and they are available on every day of the week. When we checked, we couldn't find a LeoVegas bonus code listed for any of these deals but do have a read through all of the terms and conditions to make sure.
Can I Start Things off with a Generous Welcome Bonus?
There is a welcome deal to take advantage of, and it can earn up to 10,000 INR in free bets. To claim it, complete the simple sign up process that we've listed above and make a deposit of at least 1,000 INR.
Players then have to make two qualifying bets between 1,000 and 5,000 INR and LeoVegas India will then issue a 100% match on those stakes by way of a free bet token. Note that a qualifying bet must be set at minimum odds of 1.80 and that the bonus is valid for 30 days after sign-up.
There are a number of terms to follow on this so we would recommend just checking the Terms and Conditions in full before going ahead. Once again, there is no LeoVegas promotion code to input when you do take it up.
I like Other Sports Too: Is LeoVegas a Good All-Rounder?
Cricket is our passion, but there are times when we all like to take a look at other sports. Some of us might do this on a regular basis, while others will cross occasionally when we hear about a good bet.

So, is this a good all-round sportsbook? We would say yes because LeoVegas India carry over that same philosophy of providing a great choice of markets, combined with competitive odds. In all sports, there is a coverage of the big events plus some obscure matches, and that's particularly true in soccer which is clearly a speciality for this bookmaker.
That choice and value extends to other main sports including tennis, golf and NFL while there is a good mix of obscure events such as cycling and surfing. LeoVegas also have a strong selection of eSports options, and this shows it to be a progressive bookmaker who likes to grow to meet their clients' needs.
We've mentioned that the homepage automatically defaults to in-play options so you can be certain that LeoVegas live betting is an important part of the set up. There is also a LeoVegas mobile app which will benefit that live betting platform, but it can also be useful for players who bet pre-match. IOS users can download direct from the app store while the LeoVegas android app will need to be downloaded directly from the mobile site.
So, to answer that original question, we believe that LeoVegas India is a great all-rounder – maybe even as good as the brilliant Kapil Dev. It's perfect for cricket, but it can certainly meet your needs for other sports too.
We Need to Talk About Licensing and Regulation
Firstly, it's important to understand that we wouldn't recommend any operator to you if they were not licensed and allowed to provide betting services in the respective county. So, when you ask is LeoVegas legal in India, the answer is a resounding yes.
You can usually find all you need to know about that licensing and regulation by checking the very bottom of the sportsbook's homepage. LeoVegas is no exception in this instance, and the test confirms that they are fully regulated by the Malta Gaming Authority. The license is held in Malta as well, and all this information can be externally verified. LeoVegas also work with organisations that promote responsible gambling, so this is a positive all-round package of information that helps to promote trust and safety when playing online.
What Happens When I Need a Little Help?
Not all of us have to get in touch with customer services, but even if you've never asked for any extra help from your bookmaker, it's nice to know that it's there if we need it. LeoVegas India provide a number of ways in which you can get in touch.
The first and most obvious method comes via a live chat operator which is available 24/7. We will usually find that this is the quickest way in which to deal with any queries, and you can access the service via an orange speech bubble at the bottom right corner of the homepage.
We tested this option out and received a fast and friendly response which answered our query perfectly. If you want to try an alternative method – maybe something more anonymous – then just click on the support button on the top left of the homepage. This opens up a 'help centre' which lists an email address, and it can also lead you to a list of frequently asked questions.
To summarise this part of our LeoVegas cricket review, it's a big positive with every possible way of getting in touch made available. The help service has been fast and effective, and we can highly recommend it to you.
Is LeoVegas the Right Cricket Sportsbook for You?
We started this LeoVegas cricket review by underlining the sort of things we were looking for but did the sportsbook deliver? We demanded choice in regard to the amount of cricket matches and betting markets that were available, and we wanted that choice to be matched by some seriously competitive odds.
In that sense, LeoVegas India scored very highly: We saw that they quoted for many games of cricket around the world and while it was natural that the bigger international matches got the most coverage, there were enough minor fixtures to keep every possible cricket bettor entertained. Within those games, there was a nice range of prop bets although most of these related to player markets rather than stats betting.
The odds available were excellent too, and we've seen that the value that they bring can be enhanced by a good choice of offers and promotions.
We've also established that LeoVegas India is a good all-rounder that can be used for other sports. It's an excellent package, and the LeoVegas live betting platform backs up that service. Flexibility is provided by the LeoVegas mobile app, and there is a good back up from effective customer service and a range of funding options.
To conclude, we can highly recommend this sportsbook, and in terms of cricket betting, it's one of the first places to check out.
T&C's apply to all of the offers!
Last modified:
August 17th, 2022
by