There are many cricket betting sites that we think you should be checking out and Unibet India is right up there with the best. This is a company that has sponsored cricket teams and tournaments around the world, and that fact alone is enough to tell us that they will take the sport seriously.
Unibet Registration
Unibet
Unibet
Rating
Markets

4.7

In-play

4.7

Graphics

4.7
Why choose this bookie?
Wide set of cricket markets
Big international games
A set of excellent odds
18+; T&C's apply; Click "Try it now" for details
Commercial partnerships between big organisations are all very well, but the operator also needs to look after the everyday cricket bettor in India. Our cricket review is here to make sure that they do just that.
Can I Look Forward to a Great Set of Cricket Betting Markets?
It's the first and most obvious question to ask as far as we are concerned: The experienced cricket bettor demands a wide set of markets so can Unibet India step up to match those needs?
The news is certainly positive here, and for the big international games, we can expect Unibet to provide more than 100 markets. That level is usually reserved for T20s because that's a format of the game that allows for many more betting options. For ODIs and test cricket, the levels may be less.
One thing that stands out about Unibet India is the fact that they have more player props than most sportsbooks. We've seen a lot of operators who provide stats betting where you can stake, for example, on how many runs will be scored in a certain over but you don't get that here. Instead, you can expect to find markets for 'man of the match', plus top bowler and top batsman. That's good news because these are popular betting options and not every bookmaker quotes odds for them.
Match coverage is wide too so you can expect to see minor matches listed along with all the major internationals across the world. So, we sign off this part of the Unibet cricket review on a high note.
Are the Cricket Betting Odds Competitive?
One of the benefits of playing with an established sportsbook such as Unibet lies in the fact that they are widely represented by the main odds comparison sites. These portals are designed to take a selection of bookmakers and to list the comparative prices for a specific market. That makes it easier for us to judge the operator and to see whether they are giving us value for money.
Unibet certainly are giving us that value, and when it comes to staking on prop bets, they are going to be very hard to beat. The prices offered for result betting are very competitive too, but it's those prop bets that carry the best value. Here we have a very good all-round company and, along with that excellent choice of betting markets, Unibet India have backed things up with some of the most competitive odds in the industry.
Can I Register Quickly and Easily at Unibet India?
We're all very busy people, and none of us want to spend too long in signing up with a new sportsbook. We'd like Unibet to offer us a streamlined registration process so what did we find here?
There are just four short forms to complete, and it all kicks off when you click on the big yellow registration button at the top right-hand corner of the homepage. There is more to complete than with other sportsbooks, but this is still only looking for some brief and essential personal details. Name, physical address, contact details will be needed, and then you will need to set your preferences on the account, including a username and password.
We weren't asked for verification at this stage, but you can choose to get it out of the way. We're fairly certain that you will be asked to prove your identity when it comes to making the first deposit, so why not do it early?
So, we've shown you how to create a Unibet account, and it's a swift process. The registration procedure should just take a few minutes, and you can quickly start playing in all your favourite cricket markets.
Does Unibet Offer a Wide Set of Funding Options?
We're happy to have completed the registration process, but now we need to add some funds to our Unibet India account. We'd like to get up and running immediately, and it would, therefore, be useful to have a wide choice of deposit and withdrawal options. That's the next mission of this Unibet cricket review – find out what payment providers are on the roster.
Like all sportsbooks, Unibet India allows us to switch money directly to and from our bank and into our betting account. You can do this by a simple bank transfer of funds, or you can use a debit card to do this. A debit card may be the better option as the transaction should be instant while bank transfers could take up to three working days.
e-wallet transactions should also be instant, and there is a range of these to choose from. The good news for many will be the presence of PayPal. This is the world's biggest e-wallet, and many customers will already have a PayPal account, so it should be easy to make a Unibet deposit via this method.
Other providers on the list are Interac, paysafecard, Skrill, NETELLER and ecoPayz. We've mentioned that the majority of those deposits should be instant while any withdrawals may take up to 48 hours. In all cases, the minimum amounts for both Unibet withdrawals and deposits are set at 1000 Euros.
Can I Add to the Value by Using Some Offers and Promotions?
This is a busy place in terms of offers and promotions, and you should always be able to find a deal or two to boost your value. Once you've taken advantage of the Unibet welcome bonus which we will detail below, there is a range of promos, and for some time, Unibet have been providing a loyalty programme.
Known as the free bet club, there are bet tokens available as long as you hit staking limits in each time limit. Unibet often provide free bet deals too, but many will belong in the football markets such as the late goal refunds.
There are, however, a number of offers that can be used on cricket including the welcome deal and the loyalty programme and Unibet India have been known to publish generic acca insurance promotions in the past. Look out too for a refer a friend bonus which can earn up to a mighty 250 Euros if the person you refer reaches certain staking thresholds.
In summary, this is a very active site for promos, and we have yet another positive section of this cricket review.
Is There an Initial Bonus to Welcome Me on Board?
Unibet certainly do offer a welcome deal, but it works a little differently to that of most operators, so you'll need to follow it very carefully. This offer will refund your opening bet if it doesn't win and the refund available can stretch up to a generous 25 Euros.
There is no Unibet promo code to enter so, to start your claim, you will need to complete the registration process that we've detailed in the previous section. Make an opening deposit of at least 10 Euros via a bank card and then it's time to make that qualifying bet. Find any option from the Unibet India sportsbook and bet at least 10 Euros but, if you can boost that up to 25 Euros, then you could qualify for the maximum refund. Remember that the minimum odds for that bet must be set at 1.40.
Wait for the event to be completed and, if you win, you simply collect your profits. If, however, the bet were to lose, you will receive a refunded stake as a free bet token up to that 25 Euro limit. Please remember to check all terms and conditions and, as a final point to note, there is a 5x rollover attached to that free bet token which must be played through before you can collect any returns.
Is This a Good Sportsbook If I like to Bet on Something Other Than Cricket?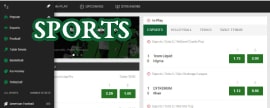 In terms of choice, we would put Unibet India up there with the best online cricket sportsbooks. There are so many sports to choose from, and the full A to Z list is going to be hard to beat. We've all the regular options that you would expect to see including soccer, tennis, golf and rugby and it's also good to see horse racing and greyhound racing added to the roster. Not every sportsbook does this, so this is a definite positive.
Unibet were originally a Scandinavian company, so we have a lot of obscure sports to add in. They are big supporters of chess through corporate sponsorship so there are lots of markets here and you can also expect to see Pesapallo, Bandy, Handball and Surfing amongst others. You'll also get that same set of excellent odds and a good choice of markets no matter what sport you like to bet on.
One big advantage of playing with this sportsbook comes with the Unibet live betting package. It meets the basic needs with wide coverage, but there are some excellent backup facilities too. Unibet offer a useful and comprehensive set of statistics so that bettors can quickly do some research into assessing the form of their team or individual.
There's Unibet live streaming too so you can watch those bets unfold in real-time. The streaming here is some of the best in the industry, and clearly, that's another big positive.
Whether you're betting live or pre-match, it also helps to have some flexibility and customers can get that via the Unibet mobile app which is available for android and iOS devices. Obviously, some of these benefits will also apply to the cricket markets, but they do underline that Unibet India are a terrific all-around sportsbook no matter what you like to bet on.
Is Unibet Legal in India?
This is an important point to pick up on, and while we know that it's not going to be the most exciting point of our Unibet cricket review, we realise that players need to know about trust when betting online. We wouldn't advise you to join a sportsbook that wasn't fully regulated and allowed to provide betting services here so when you ask is Unibet legal in India, the answer is a confident 'yes'.
The license held by the company is issued in Malta, and all of this information is at the bottom of the homepage, so there are no concerns over credentials. The operator also works with a number of organisations who are designed to ensure that fair play and responsible gambling is upheld. Among the companies that Unibet India work with are EGBA, RGA, eCOGRA and BeGambleAware. Overall, this is an impressive list and this comprehensive and impressive approach to licensing helps to build our trust in this bookmaker.
How Do I Contact Unibet Customer Services?
We all have questions at times. Some of these can be resolved by looking at online FAQs while others need an extra level of assistance, provided by customer support. At Unibet India, there are a number of ways in which to get in touch, and they start with a live chat operator. This service is available 24/7, and most people who use it would surely agree that this is the quickest way in which to get in touch.
There is an email too for those who have more time to spare, and if you click on the 'get help' button at the top of the homepage, this will bring up a list of frequently asked questions. Not everyone has the patience to use these, but we found them to be logically laid out, and they were helpful and quick to access. Overall, Unibet India have a strong help package here, and we've found that any queries are answered swiftly and effectively.
Why You Should Make Unibet Your Next Cricket Sportsbook
It's been a comprehensive Unibet cricket review, and we hope we've given you some positive insights into this sportsbook. To round things off, we'll quickly recap on why we think this should be one of your first sign-ups for cricket betting.
We've seen that there may be a bigger set of betting markets elsewhere, but there are more than enough options for any punter. Unlike a lot of bookmakers who open cricket markets for India, Unibet have a lot of player props, and if you prefer this style of cricket betting, Unibet India should probably be your new home.
That great choice of markets is matched by competitive odds, and you will struggle to beat many of the prices currently listed for prop bets.
If you like the live markets, Unibet live betting features that same excellent mix of wide market choice with competitive pricing. Unibet live streaming helps to enhance that experience while the stats provided help you to identify likely bets moving forward.
It's a great package, and for anyone looking for one of the best cricket sportsbooks around, Unibet India may just fit the bill perfectly.
---
Which are the other highly recommended bookmakers?
T&C's apply to all of the offers!
Last modified:
August 17th, 2022
by